Another Sunday Selection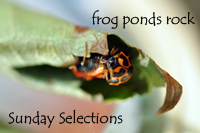 Wow, this is becoming a habit or an addiction - I'm not quiet sure.
Happy Mothers to all the Mothers who read this blog or any other blog.
I have been reading a few blogs lately, last week I came across this great blog by
Eden Riley
who has just had her blog Edenland voted best Australian blog for 2012. I actually heard Eden interviewed this morning on Radio National.